When:
August 12, 2017 @ 10:00 am – 4:00 pm
2017-08-12T10:00:00-05:00
2017-08-12T16:00:00-05:00
Where:
Austin Book Arts Center
2832 E Martin Luther King Jr Blvd #114
Austin, TX 78702
USA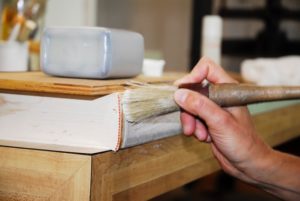 This workshop focuses on the very basics of repairing damaged case-bound books.  The techniques taught will be surface cleaning of paper; basic mending of paper; hinge tightening; basic attachment of loose pages; endsheet replacement and re-casing in original cover; corner repair; making a polyester wrapper.  Students will also sew a 3-4 section pamphlet.  This workshop is meant to teach an awareness of repair techniques and begin students on their path to more in-depth repairs.
This workshop is the first of a three workshop series and is a pre-requisite for Book Repair II. The Book Repair series of workshops are designed for librarians, archivists, or private individuals who would like to know how best to repair damaged items in their collection.  Many techniques will be covered, but mastery will take time and practice.  Students are encouraged to rent studio space after taking the workshops to practice the techniques taught.
Level: This class is appropriate for students at all levels.
Dates: Saturday & Sunday, August 12 & 13
Time: 10am-4pm
Max. no of students: 6
Instructor: April Smith
Cost: $180 tuition + $15 materials fee
Note: Members receive a 10% discount off the price of tuition and materials. Please click here to join as a Member.
April Smith received her Master of Library Science degree and Certificate of Advanced Study in the Conservation of Library and Archival Materials from UT Austin in 2002. As part of earning her degree she completed an internship at the Library of Congress in the Rare Book Conservation Lab. After graduation, she worked part-time at the Harry Ransom Center in paper conservation, and part-time as an adjunct professor at UT while starting Booksmith Conservation. April has taught a basic bookbinding class while working at UT and has taught book repair classes through Amigos Library Services and at the Southwest School of Art (San Antonio). She recently completed a course in fine binding at the American Academy of Bookbinding.