The only thing I enjoy more than a spectacular read is the opportunity to share and discuss it with others. This explains why I belong to three bookclubs, interview every author I can, and frequent literary events around town.
If you're like me and enjoy connecting with others around reading and writing, consider attending one of the events listed below. We've included it all–author signings, literary festivals, storytimes, book clubs and even galas benefitting bookish nonprofits. Most of the literary events in the calendar are free and open to the public. A few, such as limited enrollment writing courses, require registration or payment in advance. They each present a unique opportunity to make friends, share your love of literature, learn something new and hone your craft.
I rely on information originating from the host organizations to compile the Austin Literary Calendar. While we make every attempt to ensure that all information is correct, we do not guarantee the accuracy, timeliness or quality of every listing. Please report any errors to hello@mayasmart.com and I'll try to correct them immediately. Additionally, if your Austin-based literary events are missing from the calendar, please forward them to hello@mayasmart.com for consideration.
Aug
18
Sat
Multi-Pamphlet Notebook or 2018/2019 Datebook (Session 2)

@ Austin Book Arts Center
Aug 18 @ 10:00 am – 1:00 pm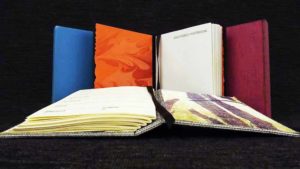 Learn some basic bookbinding skills with this small album structure, consisting of 5 sections easily sewn using the basic pamphlet stitch. The class will be furnished with the kit, including pre-cut boards and a pre-printed academic year 2018/2019 datebook text block. Students also have the option to bind their notebooks with blank pages or graph paper provided. Basics, such as grain direction, folding and sewing signatures, and "casing-in" will be covered. Students will personalize their notebooks with cloth and decorative paper. These make great gifts!
Level: This class is appropriate for students at all levels.
Dates: Saturday, August 18
Time: 10am-1pm
Max. no of students: 6
Instructor: Amanda Stevenson
Cost: $45 tuition + $5 materials fee
Note: Members receive a 10% discount off the price of tuition and materials. Please click here to join as a Member.
Completion of this class will qualify you to use the studios for your own projects. Details on Open Studio may be found here.