By Courtney Runn
Is there any sport quite as universal as the game of soccer? Whether you call it football or soccer, there's nothing like cheering on your country in the World Cup or yelling Gooooooal! when your favorite player scores.
Like all sports, soccer showcases teamwork, perseverance, and discipline—wonderful qualities to reinforce during read-aloud time. To help you encourage the little players and fans in your life, we rounded up some of the best picture books about soccer. Read on for stories about legendary players, the unifying power of the game, and silly characters that remind us that while sports may be competitive, they're also a whole lot of fun.
Young Pelé: Soccer's First Star by Lesa Cline-Ransome
Discover how one of soccer's most legendary players started his career dribbling balls made of rags on the streets of Brazil. As a young boy, Edson can't focus because his mind is on the soccer field. He spends all of his free time practicing, practicing, practicing—which pays off when he starts winning. In Young Pelé, Lesa Cline-Ransome and her illustrator husband James E. Ransome bring to life the incredible true story of the soccer star.
For Pelé fans, add Pelé: King of Soccer/El Rey del Fútbol by Monica Brown to your reading list, too. Rudy Gutiérrez's bright, fanciful illustrations spill off the page and immerse you in the life of Pelé, aka the King of Soccer in this inspiring bilingual picture book.
Mina vs. the Monsoon by Rukhsanna Guidroz
This delightful Kirkus-starred picture book takes young readers to an Indian village during monsoon season. When rain keeps Mina from her beloved game of soccer, she miserably waits inside all day, trying everything she can think of to ward off the storm. In the process, Mina discovers a surprising secret about her own mother that brings them closer together. Debasmita Dasgupta's charming illustrations draw you into Mina's world, and the Hindi/Urdu words scattered throughout truly bring the story's setting to life for readers anywhere.
Note: The book ends with a note to parents and educators with information on how organizations in northern Indian villages are using soccer to combat child marriage, which could serve as an important conversation tool with older children.
Kenta and the Big Wave by Ruth Ohi
A young Japanese boy loses his home and possessions in a tsunami, including his beloved soccer ball. As he stays with his parents in a gym with other displaced families, his soccer ball is on its own journey across the ocean. Miraculously, his soccer ball travels back to Japan and to its rightful owner. The simple story ends with an author's note about the real-life tsunami in 2011 that inspired this story.
Facing Fear: An Immigration Story by Karen Lynn Williams
This moving story depicts the everyday fears and struggles of undocumented immigrants. When Enrique can't go to a soccer tournament with his team, he's angry and confused about why his dad is so afraid of letting him cross the border. Even though Enrique is an American citizen, his parents are undocumented immigrants. Once he learns about their courage in seeking out a better life for their children, he starts to understand his dad's perspective. The end of the book offers more information on immigration, including relevant definitions and organizations that advocate for immigrant families like Enrique's.
Note: References to violence, while not graphic, might make this story better suited to more mature readers, but this read is sure to spark important conversations with your children.
The Soccer Fence: A Story of Friendship, Hope and Apartheid in South Africa by Phil Bildner
The Soccer Fence poignantly introduces readers to apartheid South Africa through the eyes of Hector, a young black South African boy who loves soccer. He practices every day, but outside his Johannesburg township, he's routinely excluded from the white boys' soccer matches. Despite political progress and the abolishment of apartheid, Hector doesn't feel the effects on the soccer field—until South Africa wins the African Cup of Nations in 1996. The story ends on a hopeful note with reconciliation and friendship, plus additional information for readers on the history of apartheid.
Happy Like Soccer by Maribeth Boelts
Soccer makes Sierra happy, but not having her auntie or community at her games makes her sad. This sweet story follows her quest to make sure her games won't conflict with her auntie's work schedule. Her love for her family and her community shines through this read.
Someone New by Anne Sibley O'Brien
This sweet story follows a classroom of children trying to welcome and relate to their new classmates from Guatemala, South Korea, and Somalia. They don't know how to communicate with these new friends and feel frustrated—until they learn they actually all have things in common. The children connect over soccer, comic books, and art, becoming real friends in the process. This Kirkus-starred picture book is an excellent tool to teach kindness and hospitality and learn to celebrate differences while also searching for common ground.
Soccer Star by Mina Javaherbin
Soccer Star follows a young boy in Brazil who dreams of being a soccer star like his heroes Pelé, Garrincha, and Ronaldo. All of his teammates spend their days working—diving for tourists, picking coconuts, working on carnival floats—but they dream of one day flying across the soccer field instead, bouncing, kicking, shooting, and scoring. This bittersweet read highlights the obstacles of poverty, but shimmers with the hope of children for a better life.
For more soccer reads by Mina Javaherbin, try Goal! or Neymar: A Soccer Dream Come True.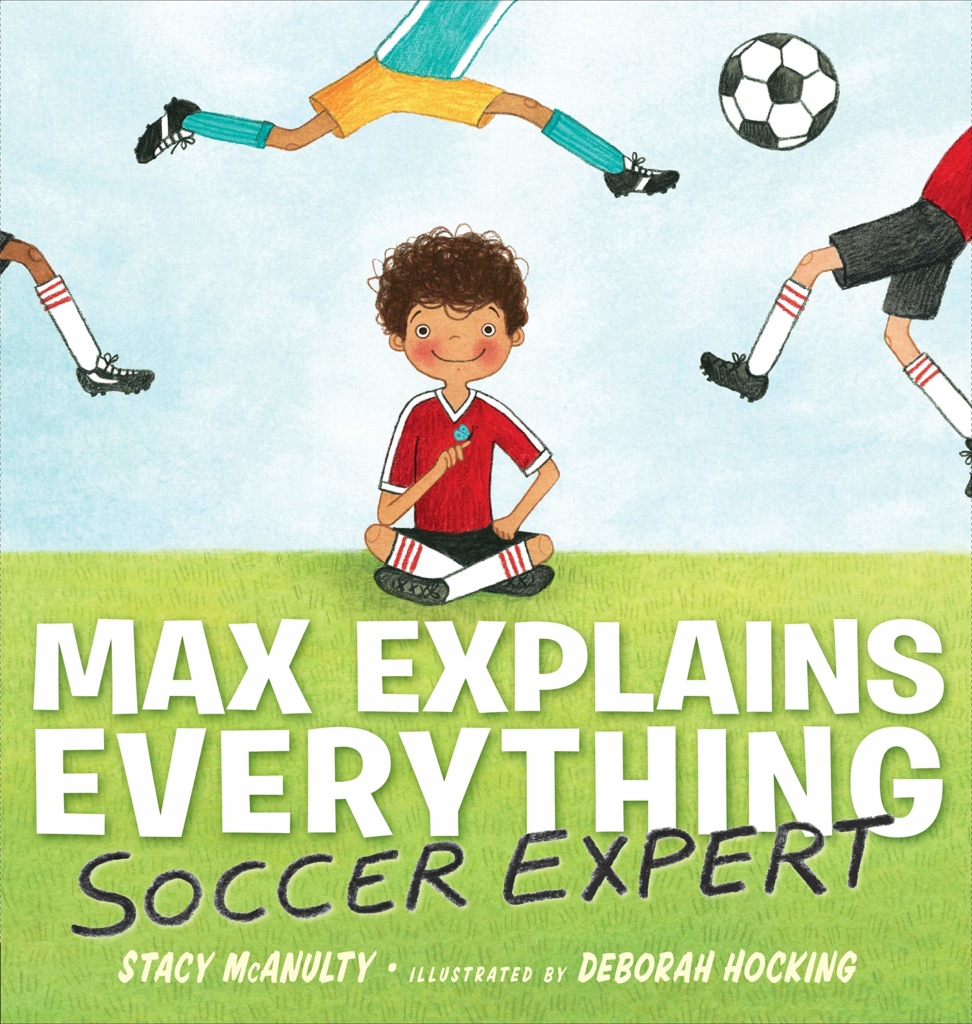 Max Explains Everything: Soccer Expert by Stacy McAnulty
Max knows everything about soccer … well, almost everything. He knows the important things, like munching on orange slices and watching the clouds and chasing runaway puppies off the field. He's a little less concerned with actually kicking the ball. This lighthearted read will introduce young readers to terms like cleats and delight them with Max's whimsical daydreams.
The Day Dad Joined My Soccer Team by Maureen Fergus and Mike Lowery
This creative book flips the script on parents guiding children through a soccer game. When one of the players' dad jumps in the game, he immediately ruins everything. From getting distracted to whining to the coach to throwing tantrums at the referee, he keeps embarrassing his son. This role-reversal story teaches kids how to be a team player and a good sport—especially when you're losing!
Maisy Plays Soccer by Lucy Cousins
Younger readers will love playing soccer with Maisy. Everyone's favorite mouse plays a game of soccer with her friends Eddie, Cyril, Charley, Dotty, and Tallulah, and learns that what matters most isn't winning but having fun. This is a great introduction to soccer for toddlers and preschoolers.
Football Counts! ¡El Futbol Cuenta! by Barbara Barbieri McGrath and Peter Alderman
Practice counting with this bilingual picture book. Each page features a different soccer-related number—1 soccer ball, 3 refs, 11 players—with vocabulary, game rules, and history in English and Spanish. Young readers will learn a lot about the technical side of the game, while enjoying the bright illustrations.
Don't miss our other sports book lists!