We have a saying in our family of three children: Siblings are friends for life. But along the way to that lifelong relationship are plenty of challenges, competition, and complicated feelings.
Encouraging first children to get excited for an upcoming sibling, and then supporting both younger and older children through the emotional ups and downs of their relationship, will help them develop that special bond. And a well-selected book is among parents' most powerful tools to gently nurture siblings through each stage, cultivating their relationship without ever feeling heavy-handed.
Read on for tips on using story time to build the sibling connection, plus suggestions of picture books for siblings that will help with each.
Share What to Expect for the Expecting Sibling
Small children have no idea what's coming when their family is expecting a new baby. Helping them understand is the first step to preparing them to welcome and embrace their new sibling and all the changes of an expanding family. Think of "big brother/big sister" books as "what to expect when you're expecting" for first children. It's well worth reading a range of these books to get your kid primed—and pumped. Here are a few to try, and you'll find lots of other options at your library or bookstore.
Suggested titles:
I'm a Big Sister or I'm a Big Brother by Crystal Swain-Bates
These sweet rhyming books, available in both big sister and big brother versions, prepare toddlers for when their new little sibling shows up. From parents leaving for awhile, only to return with a baby, to explaining what babies can and can't do (and introducing all the stuff that comes along with an infant), these are good primers for the youngest expectant siblings. They also include positive examples of how kids can interact with babies, like comparing their size to the tiny infant, sharing a toy, and singing to the little one. Parents will also appreciate the gentle reminder to help keep babies asleep!
Tip: The text refers to the new baby as "he." If you prefer, simply adjust the text as necessary as you read.
Other options include I'm A Big Brother Now and I'm A Big Sister Now by Katura J. Hudson, winners of the 2019 Ben Franklin Gold Medal Award in the children's picture book category, as well as the popular I'm a Big Sister/Brother books by Magic Schoolbus author Joanna Cole and I Am a Big Sister/Brother by author/illustrator Caroline Jayne Church.
Address Big-Sibling Jealousy with a Book and a Cuddle
For children who are used to being their parents' "only"—especially older kids who have a firm grasp of what it means to have a baby on the way—it's natural to have mixed feelings about sharing their parents, possessions, and lives with a new sibling. These feelings can occur before and after the new little person shows up. A relevant read and a good cuddle will go a long way toward making your first-born feel accepted, and then letting them move on.
Suggested titles:
Pecan Pie Baby by Jacqueline Woodson
This book for slightly older children depicts a young elementary-aged girl who's none too happy that her mother is going to have another baby. After she blurts out that she's sick of hearing about "that ding-dang baby" and is sent to her room, she gets that "teary, choky feeling" before she and her mother have a heart-to-heart. Ending on a note of acceptance and warmth towards their newly expanding family, the book helps older kids work through their doubts. And it illustrates in a kind and uplifting way that sometimes just having your feelings heard and accepted is all it takes to move past them.
Peter's Chair by Ezra Jack Keats
This classic by the author of The Snowy Day addresses a small child's feeling of being displaced by a new baby. From being shushed while his sister is sleeping to watching his old baby furniture being repainted pink, Peter has just about had it with the changes in his family, and so he "runs away" with his not-yet-painted toddler chair—only to realize it's too small for him. With its iconic illustrations and timeless storyline, this book is a warm tale of a child learning to accept and embrace growing up.
Cultivate Pride in Older Siblings
Being an older sister or brother means sharing with and adjusting to sometimes-demanding little ones, but it also means special privileges and responsibilities. Helping children feel proud of themselves and their role is a huge part of cultivating their satisfaction and self-confidence, as well as their warmth toward their younger sibling(s).
Suggested titles:
Baby Says by John Steptoe
This nearly wordless book has just a few phrases scattered through its pages; its deceptively simple story is told mostly through evocative, lifelike illustrations. It's the tale of two brothers, one playing with blocks as the other watches from his crib. The baby tries and tries again to get his big brother's attention—and finally succeeds. Older siblings will relate to the demands of a baby, and they'll enjoy laughing along with a parent at the baby's antics in pursuit of his brother's attention. This book reinforces to young children how special and important they are to "their" babies, making them feel proud and flattered even as it helps them empathize with Baby.
Whoa, Baby, Whoa! by Grace Nichols
This sweet title with relatable pictures for young children recounts all the ways a baby gets into mischief and all the times the baby's caregivers have to intervene. Featuring a big sister in a cameo role, this book isn't all about the sibling relationship, like the others in this list, but it offers a chance to bond over the fun and challenges of working together to raise a growing baby. Children will like the feeling of sharing in this responsibility, they'll relate to the baby's troubles, and they'll enjoy getting to feel proud that they know better. The story ends on a positive note as the little one starts walking, cheered on by the whole family.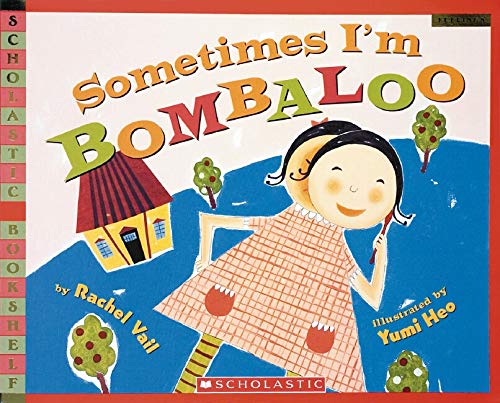 Use Books to Deal With Big-Sibling Meltdowns
Tantrums and emotional outbursts are part of learning to deal with (and manage) big feelings, and there can be a whole lot of big feelings in sibling relationships. And after parents have to set firm limits with an older child (or maybe even let their own emotions run away with them in the face of a meltdown), finding a way to reconnect and help the child grow from the experience is key. Once again, the right book and a good hug can be just the ticket.
Suggested titles:
Sometimes I'm Bombaloo by Rachel Vail
It's not always easy having a baby or toddler around, and it's not always easy for kids to contain their emotions—especially when that baby or toddler knocks over the castle they've been working so hard to build. This book is about losing control, dealing with the consequences, and then recovering through laughter, forgiveness, and plenty of parental love. It encapsulates the wisdom to know that no one is perfect and the empathy to move forward with grace. In the end, big sister and little brother build another castle, together. Parents and children alike will love this very human, humorous, and compassionate story.
Big Red Lollipop by Rukhsana Khan
Written by a little sister, this immensely empathetic book captures the heartbreak of being a big sibling who winds up getting blamed for conflicts even when it takes two to tangle. Honest parents will admit that if they're woken up by a bigger child trying to "get" a littler one, they may scold the former, just like the mother in this story. Yet the reminder that there's always a back story, and the validation that a big sibling hearing this book will feel at that acknowledgement, are priceless. This title also powerfully portrays the experience of first-generation citizens navigating the culture clash between home life and school life.
Use Books to Support Younger Siblings and to Connect the Two
You'll be busier and busier as your family's "new baby" grows into a bona fide little person with complicated emotions of their own. But taking time to read and connect with them around their little-sibling experience will continue to be an invaluable investment. We'd need a whole other article to delve deeply into this stage, but here's one favorite to get you started.
Suggested title:
Amanda Pig and Her Big Brother Oliver by Jean Van Leeuwen
Part of the Oliver and Amanda Pig series for young readers, this book captures the feelings of little sisters and little brothers everywhere. The tremendously relatable stories of these porcine but all-too-human siblings are divided into brief chapters with illustrations on every page. Author Jean Van Leeuwen evokes with sensitivity the experience of being a younger sibling who adores their big sister or brother—but doesn't adore the feeling of always being smaller, slower, and subordinate.
Do you have favorite picture books for siblings? Let us know in the comments!